Energy is largely significant in the game, as to complete quests and missions, which is essential to move forward in the game, you must have energy. Many would say that it is the most important form of currency in the game, as coins and gems are only used to buy clothing and perks, while energy is needed to progress.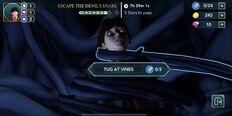 Most players first found themselves stuck at a certain point in the game, where your custom Main Character (MC) is tricked by Merula Snyde and you get trapped in a closet with the devil's snare. Your MC is then left being strangled by the devil's snare, until your energy has been regained in up to twelve minutes.
Energy is earned over time. As long as your Energy bar is not full or overfilled 1 Energy is added to your current amount of Energy every 4 minutes. The game starts out with an Energy limit at 24. The limit increases naturally over time through gameplay, specifically through learning new Flying maneuvers during Flying lessons. Each school year is divided in chapters which contain a number of tasks dedicated to the main story and also two mandatory lessons. Whenever a new Flying maneuver is learned your Energy limit is extend by 1 permanently.
If you run out of energy, you can also use Gems or real money to get more form the in-game store.
There are numerous ways to get extra Energy for free every day. These are listed below:

There are multiple ways to earn energy in the game without spending gems or real money.
IMPORTANT NOTE: It is possible to overfill your Energy bar. That way you can save up Energy for later. But not every free Energy source allows you to collect above the limit. Therefore every entry on this list contains a note, when relevant, regarding whether Energy gained this way can be stacked or not.
If you achieve a new character level through collected XP through everyday play, your will be gifted 30 Energy on top of your current Energy status. It stacks above the limit of you energy bar. Max level is 71 as of November 13, 2020.
(Former system: For every new level you'd receive a full Energy bar no matter how full or empty that bar was.)
You can interact with your friends during Meals in the Great Hall (unlocks Y1Ch7), Play Gobstones in the Court Yard (unlocks Y1Ch4), Drink Butterbeer in the Three Broomsticks (unlocks Y3Ch9) and Studying in the Library (in beta). Friendship activities cost coins (amount varies form friend to friend and increases each year). Each new Friendship Level with one of your Friends gifts you a reward. For level 4 and 5 you are gifted 5 Energy, level 6 and 7 increase to 10 Energy, level 8 and 9 grant you 15 Energy. Level 2 and 3 reward you 5 Gems. Exception to this rule are all Season 1 Quidditch Friends, Friends made during 5th and 6th year and Talbott. They gift you Energy instead of Gems form level 2 to 5. Increased friendship levels with Hagrid reward always 5 Gems. Energy form increased friendship levels stack above limit.
During classes you participate in different activities which use the same amount of Energy each. The end of such an activity is marked with a star. Once the star is reached you can pick one out of three offered rewards that are randomly selected based on specific probabilities. These prizes may contain Energy among other rewards like Creature Food, different amounts of Attributes, Gems and Coins and even Notebooks. Energy rewards are fairly rare: 1 Energy (~2,08 %) or 9 Energy (~0,23%).
Leveling up Magical Creatures

[

edit

|

edit source

]
Magical Creatures can be adopted with collected differently colored notebooks form events. To level up your relationship with them you can bond (for free) and feed (1 - 3 Food) them. Each time you level up an animal (e.g. from trusting I to trusting II) you are rewarded three different rewards. Often you get 6 Energy among Books (any color), Gems and Coins). It strongly depends on the animal and on the level you are on with it. Energy DOES stack above the limit.
Feeding MAX Magical Creatures

[

edit

|

edit source

]
Once you reach the maximum level of trust with your magical creature you can still feed them 3 Food in exchange for rewards. These rewards are given in the same manner as in classes and therefore you choose one reward out of three. The probability are the same minus Food rewards. Energy rewards can either be 1 or 9. Energy DOES stack above the limit.
Dueling in the Duelling Club (unlocks Y1Ch5) allows you to compete against a computer bot. Every won duel wins 1 Energy. The cost for a duel appears to increase most Years (75 coins (Y1), 100 (Y2), 125 (Y3), 350 (Y4), 450 (Y5), 500 (Y6)). There is a 7 hour refresh between duels, or pay gems to play earlier (starts at 91 gems and decreases with time). There are additional rewards every round of 8, 10 or 12 won duels and is randomly selected (Blue, Brown or Red Notebooks, Gems, Energy, Creature Food). Energy DOES stack.
Quidditch Friendly / Matches

[

edit

|

edit source

]
Your Quidditch journey unlocks at year 2 chapter 6. Form then on you can play Quidditch Friendlies with your team as practice in exchange for coins (Cost: 150 Coins (Y2), 200 Coins (Y3), 250 Coins (Y4), 300 Coins (Y5 & Y6)). Each won match rewards 1 Energy (also 3 House Points), a perfect match rewards 2 Energy (also 1 Gem and 4 House Points). Friendlies recharge after 7 h or skip with 91 Gems. Energy DOES stack above limit.
When you get into year 2 you have the option to fulfill three assignments each day. Every assignment grants you a reward and if you fulfilled all three assignments you win an additional price. Often assignments are a mixture of earning stars or finishing classes, Duelling and Quidditch, sometimes feed a creature or bond. Rewards vary each day, but often you get 4 Energy, 3 Creature Food, 75 Coins for the assignments (Energy does NOT stack). The completion award is often a Book (any colour), 3 Gems or 8 Energy (Energy DOES stack).
is a feature that consists on a one-month-long event. It runs concurrently with the other regular events. In order to participate on it and be eligible to the free rewards, you have to gather experience. One of the free rewards is always Energy. How much depends on the year you are in. In year 2 and 3 this will be 25 Energy, years above gain 50 Energy as a free reward. More Energy is given when the Season Pass is purchased either with 275 Gems or with REAL MONEY.
is a solo event where you need to play Quidditch to get points in order to hit milestones and collect the prizes. Each won match rewards 1 Energy and every perfect match rewards 2 Energy, very much like the regular Quidditch Friendlies. But they have no coin entry fee and there is no waiting time between each match. "Tickets" need to be collected through regular classes and activities to enter a streak of 7 matches. The matches itself seem more difficult than regular Friendlies on the downside.
is a multiplayer event in which you need to collect House Points to gain a house prize and various solo prizes. House prizes are determined by the cumulative House Points gained by your randomly selected group of players and the rank your house ends up in compared to the other houses. 2nd and 3rd place often reward Energy.
Gain Club XP to gain different rewards, like notebooks, XP, Coins, Energy, Gems and Creature Food. From rank 1 to 9 Energy rewards are 35, form rank 9 upwards the reward increases to 50 Energy.
Since the end or March 2020 Jam City, the developer of the game gifts 150 Energy to all players at irregular intervals. This reward either pops up as soon as the game is opened or it can be found as a separate glowing tile in the bottom right corner. Energy DOES stack, but it has been reported from players, that the gifted Energy if not used disappeared after a couple of days.
Another method introduced by Jam City at the end of March 2020 is the "Happy Hour". This means that for a certain amount of time in a certain time frame Energy recharges faster (1 Energy in 2.30 min). The last Happy Hour was at the end of June 2020. This format may have been discontinued. Best to follow Hogwarts Mystery on Social Media to stay informed about irregular gifts.
Watching ads for energy
Form year 2 on you can sometimes watch ads during classes and tasks when you are out of Energy to get 3 Energy. You simply need to tap on an energy task when your energy bar is empty. The opportunity seems to come back every 8h or so.
The "Daily Deal" is a reward offer in exchange for an ad and most days you can get 6 Energy form it. It is located in the in-game shop to the very left where you can also buy bundles for real money. It resets every 24 hours at 8 am (GMT) whether the reward is collected or not. Energy earned this way can exceed the max level of your full Energy bar. The Daily Deal changes most days with 12 h remaining on the countdown. It follows this pattern: Monday: 6 Gems → 6 Energy; Tuesday: 6 Energy → 75 Coins; Wednesday: 75 Coins → 6 Energy; Thursday: 6 Energy → 75 Coins; Friday: 75 Coins; Saturday: 75 Coins; Sunday: 75 Coins → 6 Gems. Coin offers are exchanged for 3 Energy when you have MAX Coins (50,000).
You can also get Energy from shop bundles which cost REAL MONEY. Most bundles have Energy included, but the amount varies.
Pets will give you a point of Energy once every several hours. You can collect energy from the one that accompanies you by tapping on it when it has a blue aura. You can collect energy from your additional pets from their resting place in your Dormitory. Energy is stackable above the limit. Each pet has a different recharge rate; consult this list for details.
| Pet | Brown Notebook | Gem Cost | Recharge time |
| --- | --- | --- | --- |
| Bat | 130 | | 4h 30m |
| Cat | | 215 | 4h 30m |
| Kneazle Kitten | 120 | | 5h |
| Kneazle | 60 | | 7h |
| Crup | 50 | | 8h |
| Moke | 100 | | 3h |
| Owl | | 320 | 3h |
| Owlet | 140 | | 3h |
| Puffskein | 80 | | 3h |
| Cruppy | 120 | | 5h |
| Rat | | 160 | 6h |
| Spider | 100 | | 4h 30m |
| Streeler | 50 | | 8h |
| Toad | | 160 | 5h |
Other Items in Dormitory (on the bookshelf and earned through quests)
| Item | Recharge Time |
| --- | --- |
| Snow Globe | 23h 30m |
| Heart-shaped Valentine Flower | 25h |
| All-Wizard Trophy | 23h 30m |
| McGonagall chess board (gem not energy) | 24h |
| Beauxbaton Statue (gem not energy) | 23h |
There are several secret places (hidden elements) within the game that will grant you a bonus point of energy when you tap on them. Below is a list of all known hidden areas that will give you energy. Go to the location, tap on the character or feature if it's available for harvest, and you will be rewarded with a point of Energy. Each location has a different recharge rate; see chart below for each location, character/feature, and refresh rate. Energy does NOT STACK above the limit.
| Location | Energy Spots | Description | Recharge Time | Notes |
| --- | --- | --- | --- | --- |
| Magical Creatures Reserve | Grey wolf pup | Sitting between the Grasslands and the Forest | 9h 19m | |
| Quidditch Stadium | Golden Snitch | Hovering on the pitch | 36h | |
| East Towers | Empty Portrait / Girl | Directly behind your character when you enter the East Towers | 6h 55m | |
| East Towers | Peeves | Floating beside the stairs to the Divination Classroom | 4h 35m | |
| West Towers | Incomplete Portrait / Fruit Bowl | Has a branch and some white flowers; to the left of the Prefects' Bathroom | 2h 50m | |
| Lower Floor - West | Unlit Torch | On the right side of the entrance to the Great Hall | 7h 32m | |
| Lower Floor -West | Knights | Three stone knights to the right of the Great Hall; one of the knights is holding a sword crookedly | 11h 9m | |
| Dungeon | House Elf | Leaning against the wall between Hufflepuff House and the Potions Classroom | 8h 12m | |
| Castle Grounds | Stick | On the ground between the Whomping Willow and Hagrid's Hut | 6h 24m | |
| Lower Floor - East | Books | On a bench between the Library and the History of Magic classroom | 5h 23m | |
| Hogsmeade | Boy in Alley | Down the alleyway next to the Three Broomsticks | 5h 51m | |
| Forbidden Forest | Spiderweb | To the left of the spider's lair | 4h 35m | |
| Diagon Alley | Small Bag of Money | Tap it and the Niffler will collect it. | 7h 22m | |
| Black Lake | Tentacle | Wrapped around a rock all the way to the right | 7h 21m | |
| Dragon Sanctuary | Dragon perched on the grass patch on a stone next to the Norwegian Ridgeback Nest | Tap the Dragon | 24h | |
| Dragon Clubhouse | Portrait | Near the entry door of the clubhouse | 8h | Unlocks at Rank 2. Rewards Energy (1 / 3 / 5; does NOT stack), but can also give Creature Food (3) or Coins (75). |
| Dragon Clubhouse | Quidditch goal post | | 26h 24m | Unlocks at Rank 5. Rewards can be Energy (1 / 3 / 15; they do NOT stack, so be careful when collecting), but also Food (10) or Coins (150 / 250). |
| Sphinx Club house | Portrait | Near the entry door of the club house | 8h | Unlocks at Rank 2. Rewards Energy (1 / 3 / 5; does NOT stack), but can also give Creature Food (3) or Coins (75). |
| Sphinx Club house | Orrery | Between the second and third torch | 26h 24m | Unlocks at Rank 5. Rewards can be Energy (1 / 3 / 15; they do NOT stack, so be careful when collecting), but also Food (10) or Coins (150 / 250). |
| Hippogriff clubhouse | Portrait | Near the entry door of the clubhouse | 8h | Unlocks at Rank 2. Rewards Energy (1 / 3 / 5; does NOT stack), but can also give Creature Food (3) or Coins (75). |
| Hippogriff clubhouse | Kelpie | Near the first tree | 26h 24m | Unlocks at Rank 5. Rewards can be Energy (1 / 3 / 15; they do NOT stack, so be careful when collecting), but also Food (10) or Coins (150 / 250). |
| Niffler (during event) | Niffler is in hogwarts | In the west wing near the ghost nearly headless nick, but it is an event not a daily thing. This is a one week event | 24h | Each day you click on niffler the rewards get larger and larger each day. You can get 100 energy, 10 or 20 gems, and or 100 coins from niffler, but remember this is an event not a daily thing like the other spots, and is a one week thing. |
If you have found any other secret energy locations, please add to this list.
When you have not energy, you can choose to watch an ads for catch 3 energy, but sometimes is not possible if there's not available video. (not infinite times)
Community content is available under
CC-BY-SA
unless otherwise noted.